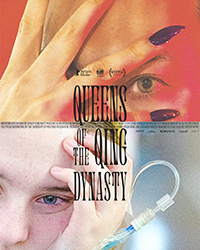 Queens of the Qing Dynasty
A film by Ashley McKenzie
Starring Sarah Walker, Ziyin Zheng, Jana Reddick, Cherlena Brake, Wendy Wishart, Yao Xue, Carl Getto, Reg MacDonald
Synopsis from TIFF website: Star (Sarah Walker) is a neurodiverse teen in a remote small town who, following a suicide attempt, has been deemed unfit to live independently. Star's everyday life is consumed with intrusive prodding by doctors and countless negotiations with social workers and nameless faces who can't seem to break through. When An (Ziyin Zheng), an international student from Shanghai, is assigned to watch Star in hospital, a peculiar, promising relationship is ignited, one that offers a new lease on life.
March 8th is International Women's Day. All proceeds from these screenings will be donated to The Jane Paul Indigenous Women's Resource Centre.
The Jane Paul Indigenous Women's Resource Centre opened its doors in December 2015, under the name Mi'kmaw Women's Resource Centre in Sydney, Nova Scotia. The JPC is a not for profit organization, providing a variety of supports and services to Indigenous women who found themselves living in Sydney, off-reserve, and away from community resources, many of whom found themselves in high-risk situations, experiencing violence, homelessness, poverty, addiction, mental health struggles, involvement with different agencies, disruption of family life, and/or experiencing involvement with the criminal justice system.