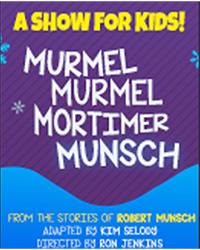 Murmel Murmel Mortimer Munsch
Bored after Christmas? Stuffed with Turkey and looking for something for you and your kids to do during Boxing Week? Then the Savoy Theatre has just the thing for you and your kids!
The Savoy Theatre proudly presents six stories from the mind of one of the greatest children's writers of all time: Robert Munsch. Five stories that come to life as a stage play that will have your kids jumping out of their seats for the holidays. "Angela's Airplane", "The Boy in the Drawer", "Murmel, Murmel, Murmel", "Mortimer", "The Dark", and "Pigs"!
Join us as these 6 stories come to life on stage at the Savoy!