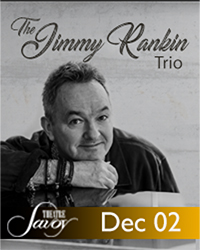 Jimmy Rankin Trio
This fall, we are delighted to welcome back to our stage legendary East Coast singer-songwriter Jimmy Rankin, with a new show that is not to be missed.
One of the most famed Canadian songwriters, Jimmy Rankin wrote such classic Rankins hits as "North Country", "You Feel The Same Way Too", and the Juno-winning single "Fare Thee Well Love," recently inducted into the Canadian Songwriters Hall of Fame.
His own hits include "Followed Her Around", "Morning Bound Train", and "Cool Car." Jimmy's the guy who wrote "Mull River Shuffle", a Cape Breton anthem with an all-ages cult following, jamming dance floors and mosh pits at parties, weddings, and raves as the last big song of the night.