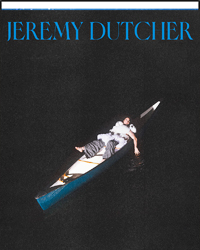 Jeremy Dutcher
THE MOTEWOLONUWOK ᒣᑏᐧᐁᓓᓄᐧᐁᒃ TOUR – Jeremy Dutcher
Five years after rising to international acclaim with his seminal, award-winning album Wolastoqiyik Lintuwakonawa, Jeremy Dutcher returns to the stage with a new band and pivotal new music. On the Motewolonuwok tour, Dutcher invites audiences to be transformed by music that is more personal and intimate than ever, yet pushes the boundaries of his unique sonic landscape.
This next sonic journey is rooted in an ancestor quote:
Tan qiniw iyuwok wasis kpomawsuwinuwok, 'tankeyutomon-oc kihtahkomikomon.
As long as there is a child among our people, we will protect the land. Jeremy Dutcher is a Two-Spirit song carrier, composer, activist, ethnomusicologist and classically-trained vocalist from New Brunswick, Canada who currently lives in Montréal, Québec. A Wolastoqiyik member of the Tobique First Nation in North-West New Brunswick, Jeremy is best known for his debut album, Wolastoqiyik Lintuwakonawa (The Songs of the People of the Beautiful River), recorded following a research project on archival recordings of traditional Wolastoqiyik songs at the Canadian Museum of History. Jeremy transcribed songs sung by his ancestors in 1907 and recorded onto wax cylinders, transforming them into "collaborative" compositions. The album earned him the 2018 Polaris Music Prize and Indigenous Music Album of the Year at the 2019 JUNO Awards. His 2019 NPR Tiny Desk Concert has over 85,000 views.
Jeremy studied music and anthropology at Dalhousie University in Halifax, Nova Scotia. After training as an operatic tenor in the Western classical tradition, he expanded his professional repertoire to include the traditional singing style and songs of his community. Jeremy's music transcends boundaries: unapologetically playful in its incorporation of classical influences, full of reverence for the traditional songs of his home, and teeming with the urgency of modern-day resistance.
Jeremy has toured the world, from Australia and Norway to Italy and the Philippines. He has worked with and performed for iconic artists such as Buffy Sainte-Marie, Joni Mitchell, and cellist Yo-Yo Ma. Jeremy is regularly sought out for his perspectives on queerness, Indigeneity, language revitalization, and fashion, including a 2022 appearance as a guest judge on Canada's Drag Race. In 2022, Jeremy and his family launched Kekhimin, the first ever Wolastoqey language immersion school, in Fredericton New Brunswick.