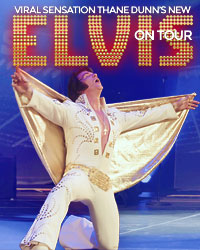 Thane Dunn: Elvis On Tour
Three million views cant be wrong.
Elvis Presley may have left the building, but his music and legacy continue to live on through tribute artist Thane Dunn. Recently, Dunn has become a viral sensation with a video that has surpassed over three million views. The video, which was filmed during one of Dunn's live performances, showcases his talent and passion for Elvis' music.
The viral video that has propelled Dunn into the spotlight was shared on social media, and quickly gained momentum. Fans worldwide were impressed by his authentic recreation of an Elvis performance, from his looks, to his sound and moves. Dunn's dynamic stage presence and powerful vocals captivated viewers, and many were left feeling as if they had been transported back in time to an Elvis concert. His tour schedule in 2024 will keep him very busy.
Dunn has been a professional Elvis tribute artist for over a decade, and his dedication to the King of Rock and Roll is evident in his performances. His attention to detail in replicating the look, sound, and energy of Elvis has earned him recognition as one of the best tribute artists in the world. His performances transport audiences back in time to the 1950s, 60s, and 70s, with songs like "Heartbreak Hotel", "Hound Dog", and "My Way". So close to the real thing, he is actually endorsed by several people who actually performed with the real Elvis.
The new show is action-packed with all your favourite Elvis rockers, ballads, and gospel greats, and is pure electrifying fun for the whole family. His Cadillac Kings have perfected the sound of Elvis' TCB Band.
Whether you're a die-hard Elvis fan or just looking for a fun and exciting night out, Dunn's performances are not to be missed. With his recent viral success, Dunn is sure to have crowds of all ages worldwide dancing in the aisles and singing along to some of the most iconic songs in music history.
Come see what people are raving about! Thane Dunn does not disappoint.