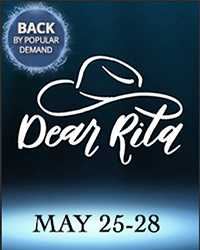 Dear Rita
DEAR RITA is a musical celebration of Cape Breton's first lady of song, Rita MacNeil — a fierce force of storytelling through song, who invited us to see ourselves in her struggles, strength, and vulnerability. How did Rita somehow tell "my" story — no matter your identity, location, age, or current mood? How did she capture a feeling of speaking directly to each person, a sense of community and conversation, our hidden dreams of love, and the roots of the working people? Rita herself said her life story is "something you could pretty well put anyone into. It's about one person, but so many of us could be there." Cape Breton playwright Lindsay Kyte was chosen by Rita's son to develop this show, featuring a cast of six performers and band, and new, re-imagined arrangements of Rita's music by PEI composer/musician Mike Ross. From Rita's popular hits to the lesser-known songs that made her bandmates cry like babies, DEAR RITA weaves Rita's lyrics into new perspectives and invites her spirit into the room as her songs live through our own experiences. Who is "Rita" in this show? It's not one person. We all are — everyone on that stage, and everyone whose hearts she has touched with the musical prayers of her people.
Created by Lindsay Kyte and Mike Ross
Featuring the music of Rita MacNeil
Arrangements by Mike Ross
DEAR RITA was commissioned and first produced by the Confederation Centre of the Arts for the Charlottetown Festival in 2021. It was developed with dramaturgical support from Playwrights Atlantic Resource Centre. DEAR RITA is produced by permission of the Creators and Marquis Literary (Colin Rivers).