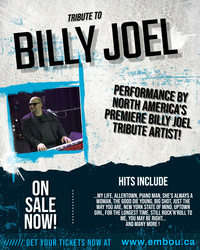 Tribute to Billy Joel
"My Life" – The Definitive Tribute to Billy Joel! North America's premiere concert experience that features the biggest smash hits in a look-a-like and sound-a-like performance by one of Canada's finest vocalists. An unforgettable show that showcases the best of the best songs by one of the most recognized stars in music.
Billy Joel wrote 33 Top 40 hits and is a six-time Grammy award winner who has sold more than 150 million records worldwide. A truly memorable evening that include the songs: My Life, Allentown, Piano Man, She's Always A Woman, Scenes from an Italian Restaurant, Only The Good Die Young, Big Shot, Moving Out, Just The Way You Are, New York State of Mind, Uptown Girl, For The Longest Time, Still Rock'n'Roll To Me, You May Be Right, and many more classics.