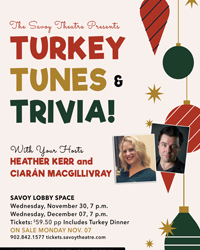 Turkey, Tunes, and Trivia
TURKEY, TUNES AND TRIVIA!
Relax and let us do the cooking, while you listen to some great tunes and take part in some super fun trivia. No cheating! 😆 Heather Kerr and Ciarán MacGillivray are your hosts for the evening. The meal will be a yummy turkey dinner. Of course. Enjoy!