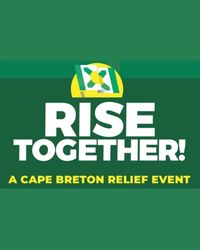 Rise Together!
Thank you for your interest in Rise Together! The benefit concert for those affected by Hurricane Fiona.
Due to incredible local support, the October 30th event has been sold out!
You can still support this effort with a donation to the Rise Together! Fund through the Red Cross and join us for the live stream of the concert. For more information on how to donate and to sign up for the live stream, click here: https://www.pegentertainment.ca/risetogethercb.html
Double your donation! All donations made before October 23 will be matched by the Government of Canada.
LIVESTREAMSunday, October 30 at 7:30pmFeaturing: Ron James Jimmy Rankin The Barra MacNeils Men of the Deeps Clifton Cremo Bette MacDonald Maynard Morrison The Island Girls (Heather Rankin, Bette MacDonald, Lucy MacNeil, and Jenn Sheppard) ​ Rise Together! is produced by Premiere Entertainment Group, and supported by NATIONAL Public Relations, the Government of Nova Scotia, The Savoy Theatre, NovaStream, Admiral, and Hot 101.9.